The Book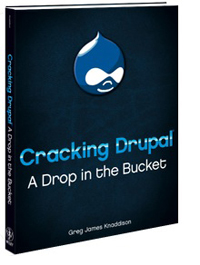 Cracking Drupal: A Drop in the Bucket
Written by a Drupal expert, this is the first book to reveal the vulnerabilities and security issues that exist in the sites that have been built with Drupal and how to prevent them from continuing. The main goal of this guide is to explain how to build and maintain your site with code written to avoid attacks in the Drupal environment, while also addressing how to proceed if a vulnerability has been spotted and then regain control of security.
Now available, Cracking Drupal is written by Greg Knaddison (greggles), was edited by Károly Négyesi, and is published by John Wiley and Sons, Inc.
Greg Knaddison

Greg started using Drupal about 13 years ago, quickly jumping in with both feet. Since then he has become more and more involved in the project:
Helps maintain the project website as a member of the drupal.org Site Maintainers and Infrastructure teams.
Member of the Security Team which led to various presentations about security in Drupal and writing this book about Drupal security.
Security Issues
Some Drupal Security Issues Identifed by Greg